The Babboe Big electric bike is a 3 wheeled cargo box bicycle (known as a bakfiets in the Netherlands). We are based in Dublin, Ireland & have used our cargo bike since December 2016.  After giving it a good testing on school runs, shopping & leisure trips etc. it is time to give an updated review of how we are doing.
What type of cargo bike are we using?
We purchased the Babboe Big E-bike (electric bike). According to Babboe their bikes are designed & developed in The Netherlands. Our bike is a 3 wheeled tricycle bike with 2 wheels on the front & one at the back. The bike has 7 gears & has an electric motor installed. We chose the electric version as we have 3 kids & we are based in Dublin, Ireland which is not entirely flat. After trying the non-electric version of this cargo bike, I felt it was worth going for the electric version & trust me is a lot easier going up hills!

How are we using the cargo bike?
Since we started using the cargo bike in December 2016, our routine has changed a bit. I (as in dad!) am the main user of the bike so in the mornings I have been doing the following:
Dropping children to school & crèche
Performing local errands e.g. to shops
Little leisure trips e.g. to playgrounds
Regular grocery shopping
What distances are we doing?
During the school year, we are generally doing between 20-30km on average every week. I has dropped during the school holiday break this summer as we do not have to use the bike consistently each week day. So far we have done over 1,000km since we started in December 2016.
The longest round trip we have done is 25km which was to go from the suburb of Dublin where we live in Deansgrange into Dublin city centre & back out again. The bicycle was comfortable to do this for both cyclist & passengers.
What do we think about the bike?
We love it! We needed some transport to get us around locally & going for a cargo bike has been a near perfect solution. You do need to be determined to cycle which is something I enjoy but I am not some sort of road racer, I mainly commute by bicycle or do it for a bit of exercise.
After discussing the idea of purchasing a cargo bike we decided early on to go for a 3 wheeler. Generally these are bigger bikes & can carry up to 4 children (we have 3!). There is also space to put in bags, shopping etc. beside the kids & they are not too squashed.
The Babboe Big itself is very solid. It has 7 gears so you can only go so fast but with the weight of 3 children in the front you are only going to go so fast anyway, even if you are making use of the battery.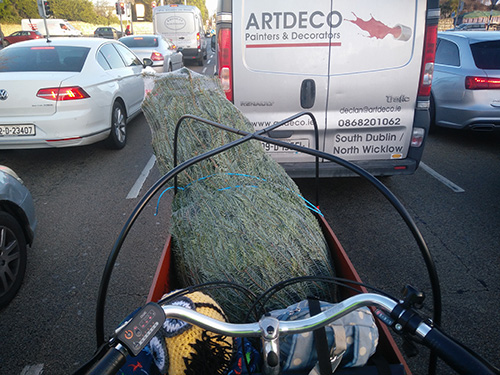 Is the bike stable & how safe do we feel?
The cargo bike is stable enough but you do need to know your limits & understand your environment such as watching the road surface. If there are no passengers or weight in the cargo box area, the bicycle is naturally lighter in the front & that means you do need to concentrate more in keeping control. In Ireland our cycle path & road surfaces can be poor quality with potholes, so you do need to watch out for uneven surfaces. If you were going too fast over such surfaces especially with a lighter load, then you could de-stabilise the bicycle. The same advise applies if you have passengers but with a heaver load I find the bicycle is more stable.
If you are sensible & adjust your cycling style to the road surface, I find the bicycle easy to manoeuvre & control. I feel very comfortable cycling on Irish roads in that after almost 20 years of being a regular commuter cyclist. I feel I am experienced enough to bring my kids out on the bike with me mixed in traffic which is quite common on Dublin streets. Dublin has average to poor cycling infrastructure which is rarely segregated from motorised traffic, so it is important that as a cyclist you feel as comfortable as possible to mix with traffic on the roads. While you can never 100% say you are absolutely safe as is the case with using their roads while driving or walking, I do feel safe as much as I can be when using the cargo bike.
While it is a much more expensive option, we opted for the cargo bike route over using a bike trailer which is typically pulled from behind a bicycle. We felt it was a safer option to have the children in front in a sturdier vehicle construction such as the cargo bike box.
What do we think about the electric motor?
The Qwic electric battery motor is great. There are 6 power levels which broadly match the 7 gears e.g. for the motor to kick on gear 2, you would select power setting 2. It is a great help going up gradients & hills as well has if you have a bit of a headwind against you. I definitely would recommend considering the e-bike version if you are going to invest in a cargo bike. You need to consider the fact that as the cyclist you will get older as your children get heavier! The only downside to the motor is when the battery charge gets to the lower levels such as 2 power level bars, I found the motor can kick out if you go up a hill & slow down in anyway. Sometimes I have experienced this on the way to school when going over a speed bump/ramp on the hill up to school. This was a challenge for the first few months as we were advised to let the battery fully discharge 10 times before re-charging.
Accessories
We purchased the rain cover & seat cushions for the two benches. I find that the rain cover works very well even to protect the kids from the elements whether it is the cold winter days or hot sunny summer days which do occur on occasion in Ireland, especially this summer! The rain cover works very well when it rains. The kids can see out of this rain cover without any issue. On warmer days you can roll out the side windows of the rain cover so there is plenty of air coming in & the kids have fun shouting out greetings to passers by!
For the benches, I would recommend the cushions. The bike has no suspension so the passengers do feel even the smallest of bumps. The cushions help make this a little bit more comfortable.
Cargo capacity
We are typically carrying around 3 kids however there is room to also carry shopping to put beside the kids when needed. If there are no children in the bicycle, the benches can fold up to allow for increased space to carry large loads. There is a rear pannier rack with a cord to hold down items e.g. we have carried our buggy around on the back with some extra bungee cords for security.
What do the kids think?
Of course, the driver is not the only one who needs to give a review of the Babboe Big, we have 3 little kiddies ranging from ages 2 to 5. The youngest at 2 is not quite in a position to give a viewpoint but I am told by our 4 & 5 year olds that they enjoy going on the cargo bike. What I find great is that I can chat to them while I cycle on the bike itself. The have enjoyed playing games with motorists by shouting hello & waving at them. A lot of motorists are good sport & wave back which gives the kids great enjoyment.
Any downsides/issues?
Not a Ferrari: It would be a lie to state that it is the most beautiful speediest bicycle on the road but that is a very superficial & minor perspective! What it lacks in stunning beauty it more than makes up for in sheer practicality!
Lack of Suspension: If there are any complaints they would be that there is no suspension so the passengers do feel a lot of the surface bumps. The bumps have not annoyed our little kids, in fact they can enjoy the bumps.
Safety Straps: The other issue that has annoyed us a little are the safety straps which we find a bit fiddly, but it is better to have the security than not. Our kids like to change places a lot & we found the straps a bit annoying to re-adjust each time one of the kids changes places.
Bulky: The bicycle is bulky, the main downside is when you are cycling on narrow roads, you may not be able to skim by traffic during rush hour. I have avoided this issue to a degree by pre-planning my journey to avoid roads that are too congested but that is not always possible. Sometimes you will just need to queue in traffic like other motorists.
Stability on Uneven Surfaces: As noted in earlier comments, you do need to keep a watchful eye on surface quality which is a particular bugbear of mine in Ireland. This means the speed needs to be watched to ensure you keep full control. The bicycle appears to have been designed for road surfaces that are smooth & consistently good quality which appears to be the norm in The Netherlands. The rule of thumb is take it easy where the road surface looks in bad shape, especially if the bike is empty i.e. no passengers.
No Mirror: While I consider myself an experienced commuter cyclist who by defaults looks around his shoulder before moving in traffic, such glances over the shoulder are a bit more difficult when controlling a cargo bike of this size. Including a mirror would be a very helpful aid, though not a replacement for awareness of your surroundings. I intend buying a mirror separately to try.
No Speedometer: So far I have not resolved this one. I really would like a speedometer just to keep an eye on things in terms of speed, a clock & odometer for total distance travelled. I use Strava to record my journeys for a record, but a speedometer would be a great feature to include. The challenge I have so far is identifying a third party speedometer that will work with this bike as it is not a standard fit for either a wireless or wired speedometer.
Front Lights: The rear light is powered by the battery. The two front lights are powered by 4 AAA batteries between them. It would be great if the front lights were powered by the battery or dynamo powered, similar to other Babboe bikes. I am looking to install some sort of dynamo lights to cut back on battery use as I prefer to have my lights on all the time as a safety measure.
Have we had any technical issues?
So far we have not had any technical issues beyond some punctures which leads to some challenges in terms of repairing punctures or replacing a tube. Otherwise the bike has been technically sound, there have been no problems technically or physically with the bike.
As part of the Babboe warranty, we brought the bike back to the shop for a check after a few months, then it gets a full service after 12 months which is included as part of the sale from the Dutch Bike Shop.
Would we recommend a Babboe Big cargo bike?
Yes, overall we think it has been a great investment & we do not regret making this purchase. It saves us the expense of running a second family car for the errands & trips we are taking. While I have pointed out some issues that I had personally, they are not serious in the grand scheme of things. What is most important is that the kids still enjoy getting into the bike one year later – that for me says it all!
I hope that you have found this review of some use. Happy cycling & thanks for reading!
Terry
---
Where did we buy our cargo bike?
We bought our Babboe Big from the Dutch Bike Shop  which is based near Goatstown in Dublin, Ireland. We have found the Dutch Bike Shop extremely helpful whenever we have had queries. We have no commercial arrangement in making a recommendation, it is a genuinely nice shop run by nice people 🙂